Back Together Again: Returning to the Workplace After COVID-19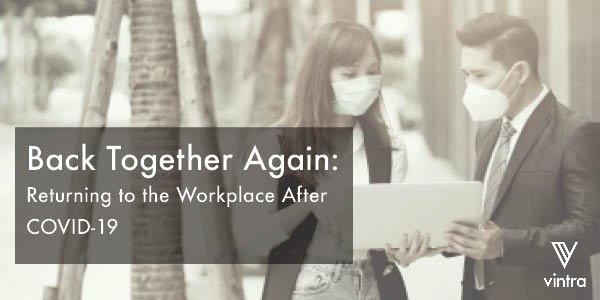 Our company, which has offices in San Jose and Barcelona, is ending its 7th week of remote work. Millions of other businesses are doing the same. As we see COVID-19 curves starting to flatten in some places, our own company and our customers are contemplating what it may look like to gradually come back to the office to be together again.
Over the past few weeks, our team has had the opportunity to listen and work alongside security and safety, and real-estate leaders from the Fortune 500 landscape and leading municipalities as they plan for the gradual return of employees. Given our focus on helping security and safety professionals leverage video in actionable ways, we've started to work with them to rethink how to best operate spaces safely and securely as a "new normal" way of work emerges. In doing so, we've heard some similar themes and have taken the time to compile them below in hopes that information sharing leads to the emergence of best practices that benefit us all.
When Should We Start to Head Back to Work?
We are hearing some common themes about when companies will start asking their staff to return to their offices. I use the word "ask" very deliberately here because it is clear that the workspaces will be ready for a return before the workforce. As companies have formed COVID-19 task forces, often consisting of multi-faceted stakeholders like HR, security, facilities, legal, operations, etc., it has become evident that not everyone is ready to voluntarily return to the office due to health concerns. Companies like Slack have already said they will not be re-opening their offices until after the summer. Facebook has banned gatherings of more than 50 people at their offices until Spring 2021. These decisions have been informed by surveys and conversations with their teams.
In the state where we are headquartered, California, the governor has outlined the following conditions for business and other organizations to re-open. These are largely consistent with what most of our customers are planning on as well.
Developing extensive contact tracing capabilities at state and local levels;
Ensuring that hospitals have the capacity to handle additional surges in covid-19 cases;
Putting protections in place to prevent infections among high-risk groups;
Requiring schools, child care facilities, and businesses to ensure that students, employees, and customers can maintain safe distances from one another;
Setting up systems to develop and deliver necessary therapeutics;
Creating clear guidelines on when regions that relax stricter measures will need to reinstate them.
Government shelter in place ordinances will need to end or be modified to allow for employees to return to work. Our customers are working through how to bring back staff gradually and test different protocols at various locations to get rapid feedback on what is working. As global real estate advisory firm, Jones Lang LaSalle (JLL) and our own customers have noted, firms are considering phasing new site openings across geographies starting with lower risk markets (from operational & financial perspective), to test out new protocols, safety measures and communications. That being said, for firms with a global footprint, standards need to be broadly applicable but locally adaptable.
What to do and how to do it?
There are two broad categories that leaders are considering when bringing staff back into their physical environments. These broadly align with the CDC's guidance for businesses, which we've heard many real estate and security/safety professionals reference. These categories are: How to reduce Covid-19 transmission among employees and how to maintain healthy business operations and a healthy work environment. Let's dig into some of the key practices in each category.
How to Reduce Covid-19 Transmission Among Employees, Vendors, and Guests
There are four consistent things we've heard from real estate and security and safety professionals as they plan on how to reduce the transmission of the virus amongst their occupants.
Questions about the Effectiveness of Thermal Cameras – For organizations considering some form of elevated body temperature (EBT) checks as people enter a facility, we have some separate advice from our VP of Sales, Brian Karas, who worked in the thermal space for a number of years prior to joining Vintra. Take a look at his recent blog post 'Don't Be Fooled By "Fever" Detection Cameras'. We've heard everything from firms doing self-reporting to cameras and thermometers in the corporate and educational space. We believe these devices are unlikely to produce the expected results or provide much value.
Safe Spaces – Do you have a separate space for isolating employees or vendors or guests that develop symptoms while at work but may need time to arrange transportation home? Firms cannot simply expect staff to head straight home should they develop symptoms while at the office. It was noted to us that many team members take public transportation to work or have a spouse drop them off. Those folks are going to need a safe and private place to isolate, and these spaces need to be established prior to the office opening back up.
Contact Tracing and Testing will Become More Common – Do you have ways to do simple contact tracing to alert other team members that may be exposed? There is a web of medical, legal, and HR risks here so this is a good one for your task force to consider. Most people can piece together who they spent time with in dedicated meetings due to their calendar and digital trail but where they went and who they may have had an off-the-cuff interaction with are harder to recollect. Our new 'Target Tracker' technology can quickly show where an individual was and who they interacted with in the past. Contact tracing and testing will become standard operating procedures for when we return to work and your tech stack, and your team needs to be ready for this. If you need help thinking through how your existing video infrastructure might help with contact tracing in order to prevent outbreaks at your facilities, please let us know.
Post-Covid Compliance for PPE Usage – As some countries, states, and localities start to make masks compulsory, what will your business do? Firms we've spoken with have said that masks will be somewhere between recommended and compulsory in high traffic areas and communal spaces. There is signage and communications that need to be considered. If you'd like to have alerts on when people are not wearing masks or daily summary reports on levels of PPE usage, please talk to us as we have a new face mask detector in beta testing that can help you determine if, when, and where masks are being used effectively.
How to Maintain Healthy Business Operations and a Healthy Work Environment
There are a number of consistent things we've heard from real estate and security and safety professionals as they plan on how to keep their physical environments and business operations healthy.
More Private, Less Public Transport, to New Office Locations – Firms are looking at how their employees are going to travel to work and where those offices are located. Companies are starting to temporarily rethink the use of mass transit as employees signal their current discomfort with this mode of transportation. As Lindsay Burke, co-chair of the employment practice at law firm Covington & Burling LLP, recently said to the WSJ, "Extremely large companies might offer to subsidize people's purchases of private vehicles or subsidize rental cars." This approach could extend the trend of private companies setting up their own bus networks as is popular in the San Francisco Bay Area. Having a private transport network is easier for companies to ensure cleaning and PPE compliance. Furthermore, we have one customer that is going to set up multiple satellite offices around the San Francisco Bay Area, that will be closer to where their workforce lives. They view this as a positive for recruitment and a nod to the ease by which staff can commute with their own cars to offices that are not located in dense downtown locations. In the long-term, public transit will need to be a viable option for our economy to regain its full potential. This was a compelling argument made by the CEO of the LA Metro Transit Authority, Phil Washington on a recent "Getting Back to Work" webinar held by the US Chamber of Commerce. When asked how commuters were going to regain confidence in public transit, he said, "We have to convince people we are doing everything we can do to keep them safe on the system and one way we can do that is to paint this picture with data." We envision a near-term future where data on cleaning, PPE usage, and social distancing are available to riders so they can make informed decisions about their method of travel.
Implement enhancements to access control to protect employees –

Firms are having to re-think vendor and guest access to their facilities. Will guests and vendors be allowed to visit? If so, under what conditions? Should visitors have to attest or prove a certain health condition? And can a firm legally ask for any health data, like temperature? There may be a move towards firms having separate spaces for guests and vendors that operate under different security protocols. Most firms we've talked to and JLL's own research suggest that guests will be limited and the bar will be raised for vendors in terms of justifying physical site access.

Implement Social Distancing at Work

– Once inside the office, the top concern amongst leaders is safe social distancing. Firms are spending significant time figuring out how to rearrange their physical spaces and then implement various forms of social distancing. This covers everything from staggering start times, to erecting panels between open desks, to implementing one-way foot traffic corridors (a great low-cost, low-risk strategy to reduce interaction), to removing most chairs from conference rooms to encourage stand-up meetings, and more. Video analytics can compliment these changes by providing security operations with an increase in situational awareness to make sure staff are adhering to the new policies. Vintra is prepared to work with firms on delivering social distancing insights that can be derived from video surveillance data to better understand compliance, risk hot spots, and the A/B testing of strategies across various locations.

Changing Communal Services and Perks

– Some firms are planning to keep some communal services shut-down all together like cafeterias, and on-site gyms and enforce selected use of elevators. There will be a push towards grab and go food service, delivery, and perhaps even providing a stipend for those electing to do home food preparation. As cited in Bloomberg's recent article on Unilever's back to work experience in Shanghai, "Employees keep their masks on and are encouraged to use the stairs instead of the elevator, with spritzes of hand sanitizer before and after touching the regularly disinfected handrail. In the canteen, a single person is allowed at each four-seat table." Many of the perks that large companies offer their employees, as referenced above, will have to be re-thought and may be substituted with a new stipend.

Provide and Verify Enhanced Cleaning to Ensure for Employee Safety

– Cleaning is top of mind for everyone we spoke with regarding how to return to work safely. Gone are the days of a signature four times per day on the bathroom cleaning sheet. These folks are going to be on the frontlines of keeping modern businesses operational and will need to be resourced appropriately. Some of the questions we've heard asked include – what PPE do these staff need? How will I know where to have them focus their efforts? How do we do cleaning persistently without disrupting the workplace? Should our conference rooms be cleaned after every meeting? How long will that take? On this front, if you need help pulling quick and accurate data about how your space is being used so your cleaning team knows where to go to work or validating that work you're paying for is actually done, please talk with us as video analytics can help.

Change in Real Estate Needs

– Now that we've covered how firms are contemplating short and intermediate-term changes to everything from transport to office access to cleaning, the longer-term impacts of COVID-19 on real estate needs are potentially dramatic. On one hand, firms are telling us that they will need more real estate as they implement social distancing measures. On the other hand, they may need less real estate due to work from home initiatives growing in popularity and acceptance from management teams. We think the trend of the office being a place to meet rather than a place to get focused work done will continue to grow after COVID-19.
Pro Tips and Final Thoughts
Firms are planning to deal with the unprecedented new conditions by implementing a large array of important initiatives that address the health of their teams, their environments, and their business operations. Contact tracing and PPE will become normal office lexicon. Social distancing and new cleaning approaches will impact office layouts and how work gets done. Staff transportation strategies and long-term organizational real estate needs will change from whatever was on paper in Q1 2020. As these aforementioned and new initiatives are quickly implemented, one of the most important capacities to retain is the ability to monitor and modify the impact. Staff surveys and some badge access and IT data will be useful here but a quick, consistent and cost-effective way to achieve this is by leveraging video analytics. Front-line practitioners can gain insight into staff adherence to new health, safety and security rules, and empower management with insights to tighten or relax rules as new information comes in.
We've summarized the conversations and information gathering we've been doing above. If your organization is doing something different and better, we'd love to know about it. You can comment below or drop us a comment on LinkedIn, and we'll update this blog periodically as we see more consensus forming. We think our current and future customers will benefit if we have consistency in what a 'new normal' way of work will look like as we navigate these unprecedented times together.
If you need actionable data so you can consistently monitor and accurately adjust new health, safety, and security policies, we'd like to show you how video analytics can be a valuable tool in your efforts to keep your team, spaces, and businesses working.
{{cta('e76c9c90-6194-442a-a989-b40fca6977ad','justifycenter')}}
https://vintra.io/wp-content/uploads/2022/05/Vintra_Blog_Linkedin_Post_Back_Together.jpg
300
600
Ernest Mena
https://vintra.io/wp-content/uploads/2022/05/vintra-logo.svg
Ernest Mena
2020-05-06 06:30:00
2022-06-16 12:01:31
Back Together Again: Returning to the Workplace After COVID-19